Did you know here at Maker Coating we are suppliers
of Intumescent Paints, Class 0 & Class 1
Spread of Flame products & devices?
Utilizing proprietary software we can assist you in calculations in the loadings required to give you your preferred time protection.
Simply send over any applicable drawings and information and we can calculate the required coverage
according to steel sizes and thickness.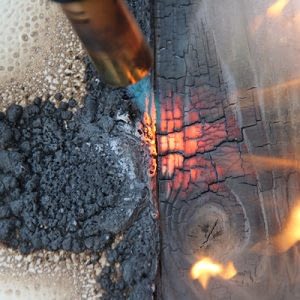 Class 0 & 1 Spread of Flame
Timber Substrates
Concrete Substrates
Brick & Block Substrates
Floors
Walls
Ceilings
Doors
Intumescent / Fire Resistant
Structural Steel and Cast-Iron
Concrete
Plasterboard
Lath & Plaster Ceilings
Timber Substrates
Panel Doors
Class 0 & Class 1
Spread of Flame
Are not intumescent paints nor will
they protect the substrate.
The testing under BS676 part 6 & 7 produces
a fire rating of Class 1, 2, 3 or 4 depending
upon how far a flame travels over a surface.
A Class 0 spread of flame material must
not only achieve a Class 1 classification for
spread of flame, but also BS 476 (part 6) Fire Propagation Test, which measures the amount of heat released.
–
Intumescent
Protective Coatings
These are "Reactive Paints" in that when
subjected to heat above a specified
temperature it will react by swelling and
providing a thermally insulated barrier
against temperatures high enough to
weaken the supporting steel of a building.
The protection given is determined by steel
size and weight and intumescent paint loadings;
for a given steel size and weight the loadings will vary depending upon the paint type and the required
protection in terms of time
We can supply the following:
Protection for metal, timber, floors, walls and ceilings, doors, and more.
Interior and exterior systems.
Products to meet classifications Class 1 & Class 0
30, 60, 90, and 120-minute protection.
Wide range of topcoats to allow our systems to be finished in various colours and finishes.
Varnishes.
Door kits
Leading Manufacturer Brands..

Still not sure which product is best for you?